What makes Premiere special
Healthy non-stick coating
Our Thermolon Infinity Pro non-stick coating is enhanced with diamonds, extremely durable, scratch-resistant and completely PFAS-free.
High-tech design
Vibrant-looking stainless steel with an innovative Evershine finish, wrapped rims for optimal impact protection and silhouette rivets for a snag-free interior. It's all in the details!
Professional grade
Enjoy optimal heat distribution and maximum efficiency on induction thanks to the professional grade 3-ply stainless steel construction with an aluminium core. Your secret to next-level cooking!
Why GreenPan?
Health benefits
Non-toxic
A healthy Thermolon ceramic coating, which is completely PFAS-free and doesn't contain harmful toxic chemicals. That's our promise to you.
Non-stick
Our ceramic non-stick coating is silky smooth. You'll need less oil or butter, and there's no scrubbing afterwards. Healthy, quick & easy!
Eco-friendly
We care about our planet. That's why the production of our Thermolon ceramic non-stick coating releases 60% less CO2 compared to traditional non-stick coatings.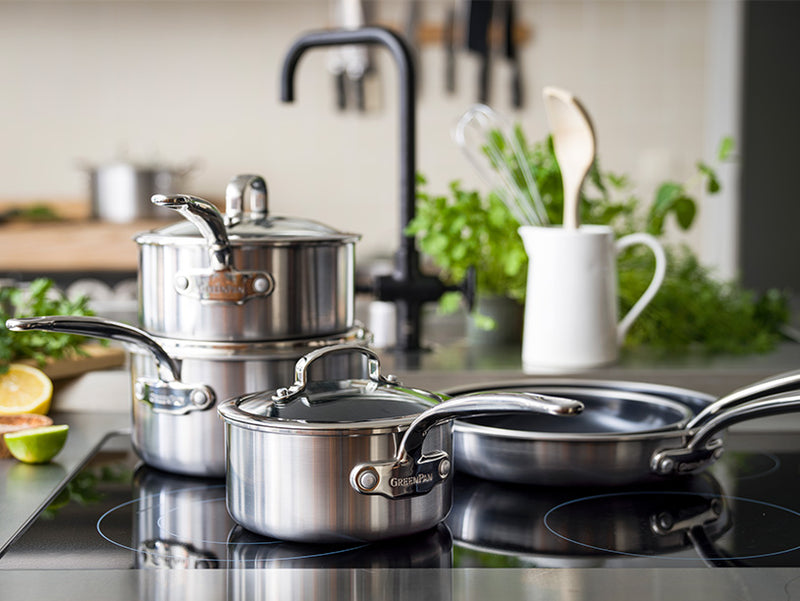 Made for you
Cooking is not a chore, it's an adventure! A creative journey that allows you to explore new recipes, new ingredients and new cooking techniques. You take pride in the dishes you make and every meal is a new chance to push your culinary skills to the next level. So you'll need cookware you can rely on, no matter what's on the menu. That's why we've created our Premiere collection: top-notch design, high-quality materials and innovative features. This range will give you all the confidence you need to step out of your comfort zone and upgrade your cooking game for many years to come! Want to know how to get the most out of our cookware? Check our tips & tricks.