EVERYTHING STARTS WITH THE RIGHT PAN 
THE DANGER OF TRADITIONAL NON-STICK COATINGS 
Traditional non-stick coatings are usually made with PFAS (poly- and perfluoroalkyl substances). These are chemicals that make everyday utensils water-, grease- and dirt-resistant.  Because PFAS break down very slowly, they were nicknamed 'forever chemicals'. 
During the production process, PFAS end up in the environment, in our food chain and eventually in our bodies. Those with high PFAS concentrations in their blood are at greater risk of impaired immune systems and health problems, such as obesity, cardiovascular disease, fertility problems and cancer. 
THE FIRST & THE BEST
THERMOLON™ THE ORIGINAL HEALTHY CERAMIC NON-STICK
We don't want to contribute to unhealthy cycles, so we committed to changing the recipe.

In 2007, we introduced the world to Thermolon™, the original healthy ceramic non-stick. Instead of plastic, our coating starts with sand. 
Thermolon™ is the first alternative to traditional non-stick coatings, the first plastic-free non-stick, and the first non-stick coating made without PFAS. In less than 15 years, we've become the leader in healthy non-stick cooking. We're proud of the things we don't put in our pans.
CLEAN YOUR KITCHEN
A BETTER WAY TO COOK
Some companies make a big deal of the few toxins they don't use. When we say other companies use PFAS, we're talking about a whole family of chemicals. Those four letters represent a chemical category, so when one is banned, another takes its place. 
The cookware you use affects every meal you make. We believe there's a better way to cook, and our healthy ceramic non-stick proves it. It heats faster than traditional coatings, and it won't release toxic fumes if it's overheated. That's why we say healthy cooking starts with GreenPan.
WE MAKE IT
BUILT WITH CONFIDENCE
We're in it for the long haul, so we're committed to sustainable practices. Other companies come and go, creating cheap products, in cheap factories, with even cheaper materials. Many of these are damaging to the environment in new, unregulated ways. They do it that way because it's, well, cheaper.

But we own our factory. We know the DNA of our products. We make our coating, we make our pans, and we make sure every product lives up to our standards. We don't have to wait for the industry to change to do something about it—we are the change.
THE MOST ADVANCED BY DESIGN
RELENTLESS INNOVATION
We don't have to ask anyone what's in our pans. We hold over +150 patents for technological advancements designed to make cooking easier and better for everyone.

And we know for a fact our technology makes our pans better. We have a dedicated in-house testing lab that compares our innovations with other products on the market.

When we say we're better, it's because we've made sure of it.
GREEN IS OUR NAME
SUSTAINABLE PRACTICES
We're constantly working to live up to our name. We use recycled aluminium in all of our products. We have our own wastewater treatment plant. Our factory runs on 30% solar energy. We've won dozens of awards for our dedication to our workers and the environment, but we are always working to make our healthy products better for everyone.

We also have 50 employees dedicated to quality control, because the best thing we can do for you, and the environment, is to deliver a product that lasts.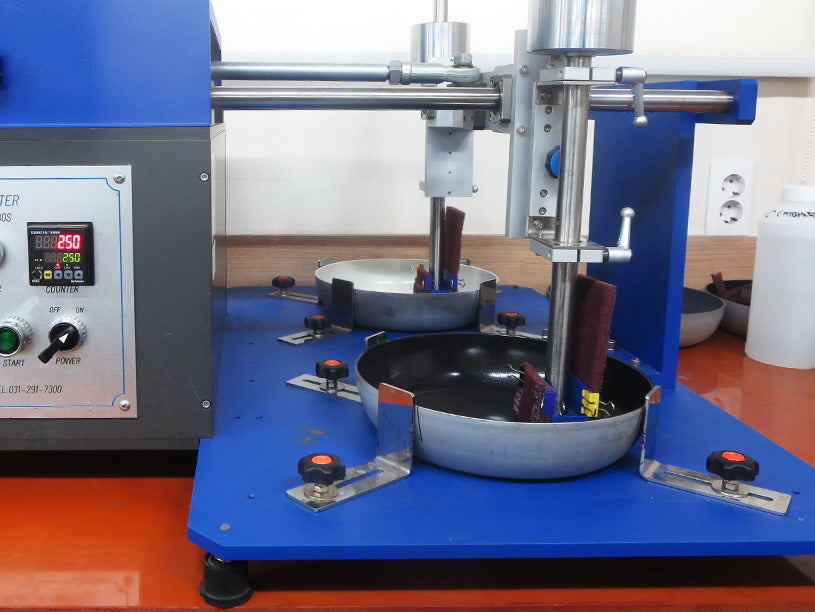 AN INDUSTRIAL REVOLUTION
RESEARCH & DEVELOPMENT
Why does a cookware company have a research and development team? Traditional non-stick existed for 50 years before any alternative emerged. That was us. In under 15 years, we introduced the world to a new way to cook and revolutionised the industry.

Our 15-member R&D team is dedicated to pushing our innovations further. We've created eight generations of Thermolon™, each a culmination of years of study and experience. Our evolution is driven by our desire to prove, beyond a shadow of a doubt, there's a better way to cook.